Re: BF4 TacOps - TDM MODE
Here are a couple things I've noticed other teams doing to us, or maybe just to me, haha.
Using angles to your advantage forces your enemy to make a deadly decision and unable to cover their own ass. You can only shoot in one direction, if you force your enemy to pick a direction, they will be exposed in all other directions.
This is not something I'm suggesting we put into practice and I'm not trying to step on any toes. I just wanted to get your opinion on this and discuss. Then we might consider this to be good practice or not.
Scenario #1
Covering a stairwell. This is actually what prompted me to make this post, because it happened to me during a clan battle against the Extreme Slayers.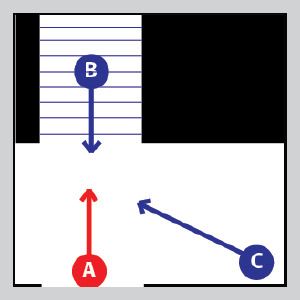 The attacker (A) is entering a stairwell. Defender (B) has the entrance covered. Two things can happen here. The attacker could kill the defender or the defender kills the attacker. If the attacker does kill the defender, he will have a false sense of safety and focus on moving up the stairs. This is where defender (C) surprises the attacker and kills our unknowing attacker from behind. Then he revives is teammate (attackers kill erased)
Even if two or three attackers were coming through the entrance, defender (C) would have a chance to take them out because they would be unsuspecting.
Scenario # 2
is the exact same philosophy, but it's holding down the entrance to a room.
Scenario #3
is moving in open ground.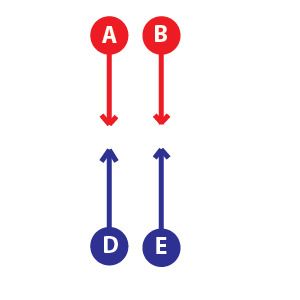 If you stand too close together, you can be double killed. If you space out, you force oncoming attackers to make a decision.
The red guys each have to make a choice. Does one of them take blue (D) and the other (E)? or, are they not that coordinated and both end up shooting blue guy (D)? I find too often that (A & B) will focus on one player (D) while blue dude (E) can flank them and get the double kill. Then he revives his teammate.
Have you guys noticed these things?
Also, here is a nice video on what is called "Corner Pieing" or as described in this video "Corner Slicing". I saw this while watching vids on Planetside 2 and thought it was applicable to all shooter games.
https://youtu.be/7hCXe-_d7Wo