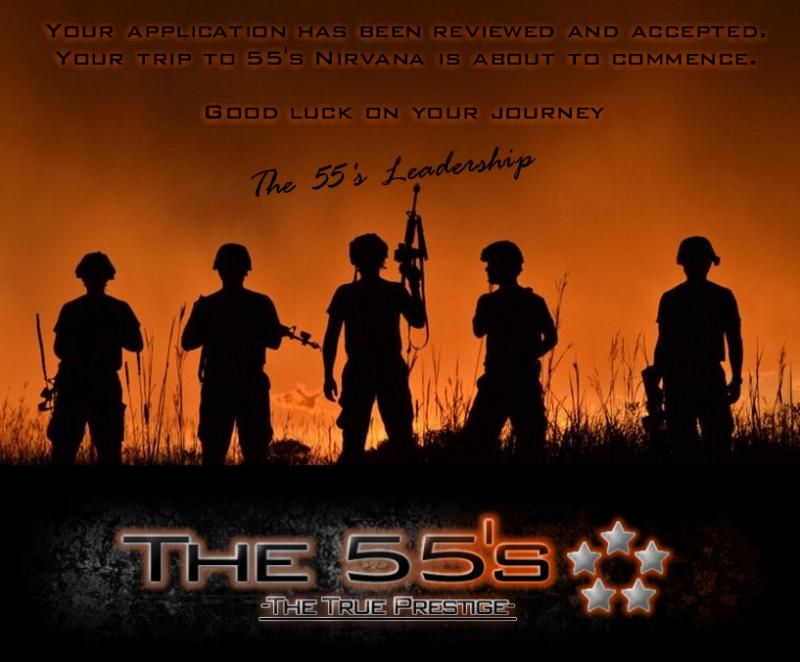 Add the following ASAP
PSN:
KanesFist
ToonTonic
EnglishnWild
julesvega


You may now add the p55 tag on your chosen game.
Your application is is now live and viewable by all current members and other applicants. Now you need add current 55's members.
You can expect current 55's and p55's to post on your application thread personally welcoming you.
Adding to your friends list from these is a great and simple way of earning brownie points and impressing members with your enthusiasm.
Once you have been accepted for probation you will begin your 5 week probation period.
You will be assigned your own Recruitment Officer who will be your "go to guy" if you have problems or questions. You may also PM any member of leadership if you have concerns or queries. KanesFist, ToonTonic, English, xx_BROLY_xX, julesvega
This involves getting as many games in with 55's as you can. Also remember that some of the current p55's may become a member before you do, in which case they'll be voting you in or out too.
Playing alongside 55's is the best way to show us what you can do and how you are as a person and not just a player.
Yes we have competitive games but we also like to have a laugh too.
During your 5 week probation period you will also need to be active here on the forums too not just in game. Make sure you check your application thread regularly and feel free to use it as a sort of diary if you wish. You can comment on games and ask questions. Other members will also stop by and give praise if they think you deserve it. So it's only polite to reply.
Also read and post up in other areas of the forum too. There's plenty of help and tips on here whether your a beginner or a veteran. Why not take the time to read up on our 6 year history and see just why this clan is going strong when so many have crumbled.
After your 5 week probation period is over you will be informed via your application thread that you are going to the polls. This means that over the following 2 weeks all current 55's will be voting on whether you should or shouldn't become a 55.
If you are blessed and do become a 55 then you can then add the famous and sought after 55's as your tag. You will be able to view new areas of the forums that you couldn't as a p55. You will also then be able to vote on other p55's. Hopefully this makes your application run smoothly and good luck p55's!
Please read the following: